Cremation Urns
Cremation is growing increasingly popular due to reduced costs and environmental concerns, among other reasons. Saying goodbye to a loved one forever is difficult, regardless of how you do it. However, with cremation, you can have a part of the deceased to remember them by. With cremation urns, you can keep your loved one's ashes close. 
At GMS Ireland, we help people keep memories of departed souls alive with urns for ashes. We offer some of the most creatively designed urns Ireland has to offer. An urn can be more than a loved one's final resting place; it can be a memorial that honours the deceased. Funeral urns can provide comfort to the people left behind by making them feel connected to their loved ones.

We understand that people have varying requirements when it comes to choosing urns for human ashes. So, we create a wide selection of products that caters to a myriad of needs. Whether you are looking for a simple container for adult cremation or prefer a bespoke piece, you can find it here.
Our Irish urns come in hundreds of designs, sizes and colours. Additionally, each piece is made with the highest standards. You can find marble urns that guarantee durability. We have keepsake urns for people who want to share the ashes of a loved one.

Picking the right urn is a crucial step in saying goodbye to a loved one. You want a piece that reflects who that person was. Therefore, we give our customers various customisation options. Whether the urn will be kept at home or a family mausoleum, you can decorate it however you want.
You can include urn planters where people can leave fresh flowers when visiting. We also have Irish headstones that can be personalised in different ways. You can have a special message on the urn or gravestone.

Losing a loved one is hard, but it helps when you have a way to remember them. Our cremation urns are perfect for keeping memories alive. Browse our current range to find the perfect urn or order a customised design.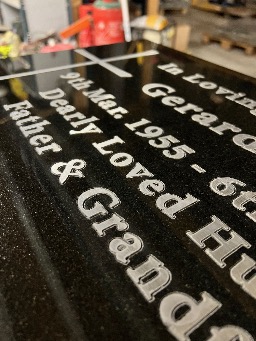 Stainless Steel & Bronze Inscriptions
We can offer a range of inscriptions and accessories finished in either Stainless Steel or Bronze.
Using these materials offer a permanent no-maintenance option when engraving a headstone.