Photographs
Memorial Photos
When you are looking to customise a grave, ceramic memorial photo plaques are one way to go. A photo plaque is an excellent way to remember a loved one. At GMS, we make photo plaques with images from photos that our customers provide. Once you submit an original photo, we can customise it the way you want like removing the background. We then transfer the images onto a ceramic plaque. After kilning, we transfer the image onto the ceramic surface to create the memorial plaque. We employ advanced technology to ensure that the image is as clear as possible.
MEMORIAL PHOTO PLAQUES OF SUPERIOR QUALITY
We use some of the best materials and tools to ensure that each plaque is of high quality. Our ceramic photos are designed to survive different weather conditions. They hold up well against flaking, peeling, fading and frost damage. GMS creates grave plaques in varying styles and sizes. If you want a heart-shaped memorial image plaque with gold accents, we can deliver. Our engraving services are also available if you need additional features on the plaque like a favourite quote or last words. We have options for all budgetary needs. 
Keep memories of a deceased loved alive with a quality ceramic memorial photo from GMS.
We understand that people have varying requirements when it comes to choosing urns for human ashes. So, we create a wide selection of products that caters to a myriad of needs. Whether you are looking for a simple container for adult cremation or prefer a bespoke piece, you can find it here.
Our Irish urns come in hundreds of designs, sizes and colours. Additionally, each piece is made with the highest standards. You can find marble urns that guarantee durability. We have keepsake urns for people who want to share the ashes of a loved one.

Picking the right urn is a crucial step in saying goodbye to a loved one. You want a piece that reflects who that person was. Therefore, we give our customers various customisation options. Whether the urn will be kept at home or a family mausoleum, you can decorate it however you want.
You can include urn planters where people can leave fresh flowers when visiting. We also have Irish headstones that can be personalised in different ways. You can have a special message on the urn or gravestone.

Losing a loved one is hard, but it helps when you have a way to remember them. Our cremation urns are perfect for keeping memories alive. Browse our current range to find the perfect urn or order a customised design.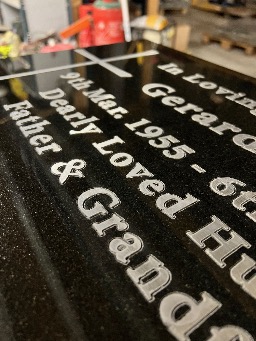 Stainless Steel & Bronze Inscriptions
We can offer a range of inscriptions and accessories finished in either Stainless Steel or Bronze.
Using these materials offer a permanent no-maintenance option when engraving a headstone.