St. Fintans Headstones
St. Fintan's Cemetery
St. Fintan's Cemetery is located in Sutton, on the south side of Carrickbrack Road in 
Dublin
, Ireland.
It is in two parts: one older, with a ruined keeper's cottage and the remnants of old St. Fintan's Church;
one newer, and actively used, lower down the hill. Just beyond the older portion is the still-flowing, still-visited St. Fintan's Holy Well.
The cemetery is on the hill overlooking the sea and under the care of Fingal County Council.
The oldest burial dates from 1850. Philip Lynott, Irish Rock Star is buried here, as is former Taoiseach Charles J. Haughey,
President Hillery,  Tv presenter Gay Byrne, Writer Michael MacLiamor and businessman Fergal Quinn.


Beautifully Crafted Memorials
Here at Grave Maintenance Service, we know this cemetery like the back of our hand. We care for over 1300 graves in this cemetery.
 
We are also the leading provider of headstones and lawn markers in St. Fintans Cemetery.


Experience
With over 25 years of experience specifically in St. Fintans cemetery, our team can offer you unparalleled experience and advice in choosing the best memorial for your loved one.
Quality
From our materials to our paints and gold leaf,  we have selected only the best for this unique cemetery.
Our headstones are polished, not only where it's visible, but all around. This will help to prevent dampness seeping through the stone from underneath. Our paints are UV protected and hardened, This gives a longer lasting high quality finish. 
One Year Free Maintenance 
We offer you one year grave maintenance completely free of charge with every new headstone,  giving you the peace of mind in knowing that the graves of loved ones are being maintained with dignity and respect for those no longer with us, and comfort for those who remain.
We understand that people have varying requirements when it comes to choosing urns for human ashes. So, we create a wide selection of products that caters to a myriad of needs. Whether you are looking for a simple container for adult cremation or prefer a bespoke piece, you can find it here.
Our Irish urns come in hundreds of designs, sizes and colours. Additionally, each piece is made with the highest standards. You can find marble urns that guarantee durability. We have keepsake urns for people who want to share the ashes of a loved one.

Picking the right urn is a crucial step in saying goodbye to a loved one. You want a piece that reflects who that person was. Therefore, we give our customers various customisation options. Whether the urn will be kept at home or a family mausoleum, you can decorate it however you want.
You can include urn planters where people can leave fresh flowers when visiting. We also have Irish headstones that can be personalised in different ways. You can have a special message on the urn or gravestone.

Losing a loved one is hard, but it helps when you have a way to remember them. Our cremation urns are perfect for keeping memories alive. Browse our current range to find the perfect urn or order a customised design.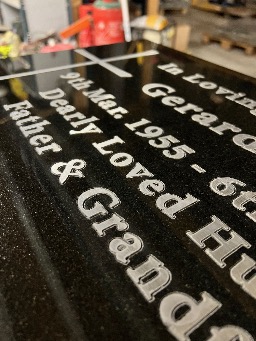 Stainless Steel & Bronze Inscriptions
We can offer a range of inscriptions and accessories finished in either Stainless Steel or Bronze.
Using these materials offer a permanent no-maintenance option when engraving a headstone.