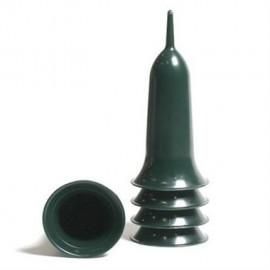 Plastic flower vase for grave
Weather resistant
Strong Material
Spike to stick into ground
PRETTY UP A GRAVESITE WITH FLOWER VASES
Flowers are the simplest way to beautify a gravesite. They add a splash of colour that brightens up the place. The tradition of leaving flowers at a loved one's final resting place is an old one. A plastic flower vase can help keep your arrangement looking nicer for longer.
Flowers can also maintain their freshness for longer with water in the vase. Investing in a flower vase for a grave helps with the maintenance. The container keeps the flowers neat instead of having petals strewn around the headstone. GMS carries a wide selection of plastic vases for graves. We have inexpensive flower vases in different sizes and colours that go perfectly with our selection of grave ornaments and lanterns.

Vases Built to Last
We build plastic flower holders for graves to withstand the tough conditions outside. They are weather-resistant, which ensures that despite extreme temperatures or harsh rain, the vase stays in good condition for longer. Our vessels are made from strong material that guarantees durability.
These properties eliminate the need to replace a flower vase every few weeks, which saves you money. A spike on the base of the container allows it to stick into the ground softly. You need not worry about your plastic flower holder getting blown away by wind or toppling over from the weight of the flowers.
This design also makes the holders easy to set up. We craft each piece carefully to deliver unique containers that complement graves perfectly. If you have a special request, like engraving the vase, consult us.

Get a superior quality plastic flower vase for a grave from GMS. Browse our range to see what works for you.