Grave ornaments and statues
Grave Ornaments & Statues
Adding a decorative aspect to a gravestone is one way to honour the dead. You can put details that meant something to you or the deceased. So, every time you visit to pay respects, that decoration acts as a reminder. Grave statues work well in this capacity.
A statue can say as much as you want it to. Even without inscriptions, statues are incredibly symbolic. For example, a Virgin Mary ornament can reflect a loved one's faith.
At GMS, you can find headstone statues of different types. We understand that decorating a gravestone is deeply personal and, so provide customers with the right products.
The Angel Statue Collection
Angel statues for graves memorials are immensely popular. Therefore, customers can expect to find various ornaments with the theme. You can order a guardian angel statue to show that a departed person is looking down on loved ones, acting as an unseen protector.
A sleeping angel would be a nice addition to a child's gravestone because it symbolises innocence. Angel statues are simple and versatile.
They go well with anything from cross headstones to book-shaped graves. Browse through our headstones to see some of the designs. Although common, angel statues are not the only alternatives present.
Unique Grave Ornament Designs
Our grave ornaments and statues are bestsellers because we craft interesting pieces that make a statement. We have highly skilled craftspeople who work tirelessly to create outstanding products.
Professional stonemasons use hand cast stone to carve superior quality ornaments that stand the test of time.
Statues can be as simple or detailed as you wish. If you want a praying angel statue with a planter for flowers, then we can make it happen.
Look through our available grave statues to see what works for you. If you have special requests for a grave memorial, then we can accommodate them.
You can also get our grave maintenance services to guarantee that a loved one's resting place is well cared for.
We understand that people have varying requirements when it comes to choosing urns for human ashes. So, we create a wide selection of products that caters to a myriad of needs. Whether you are looking for a simple container for adult cremation or prefer a bespoke piece, you can find it here.
Our Irish urns come in hundreds of designs, sizes and colours. Additionally, each piece is made with the highest standards. You can find marble urns that guarantee durability. We have keepsake urns for people who want to share the ashes of a loved one.

Picking the right urn is a crucial step in saying goodbye to a loved one. You want a piece that reflects who that person was. Therefore, we give our customers various customisation options. Whether the urn will be kept at home or a family mausoleum, you can decorate it however you want.
You can include urn planters where people can leave fresh flowers when visiting. We also have Irish headstones that can be personalised in different ways. You can have a special message on the urn or gravestone.

Losing a loved one is hard, but it helps when you have a way to remember them. Our cremation urns are perfect for keeping memories alive. Browse our current range to find the perfect urn or order a customised design.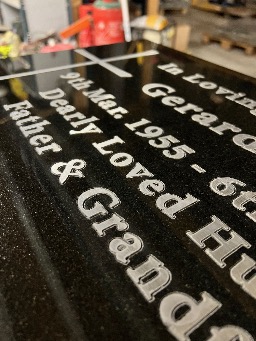 Stainless Steel & Bronze Inscriptions
We can offer a range of inscriptions and accessories finished in either Stainless Steel or Bronze.
Using these materials offer a permanent no-maintenance option when engraving a headstone.